What is a headband wig?
A headband wig is a new style of wig, you can see people wear these all over YouTube or other channels, it's convenient to put on and remove, it's just made with a piece of material resembling a headband, If you look close you will see just a little tiny lump where the black headband sew on, stretchy soft part, have the sticky Velcro.
Headband wigs inside like the regular cap construction behind the lace, it has three combs, one in the right, one in the left, and one in the back to help you not feel like it's going to slide off.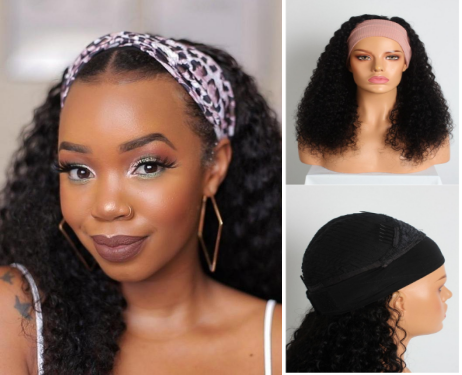 How To Wear Headband Wigs?
Headband wigs are friendly for wig beginners, no lace no glue. You can throw it on your head and go in seconds.
Here are few steps to install the Human hair headband wig.
Step1.Brush hair back and lay baby hair
Brush all your hair back and not to part your hair will look better, You can use a small brush to put some of your real hair to lay baby hair will make it looks more natural.
Step2.Put on wig and use Velcro tight the wig
Throw a headband wig on your head directly and take the front comb up top. Take the headband and use Velcro to tight the wig, also make sure the bottom comb is attached. Once you use Velcro latch the headband part, it feels not going anywhere or you don't worry about it fall down.
Step3.Put the headband on the top and do stylish
You can choose the headband you like, in summer, put it into a ponytail and choose the colorful headband.If you want to keep your wig stable, choose the wide headband to make it more secure,also can help you hide the black headband.