Finding the perfect wig online or a wig that matches your own hair color can sometimes be difficult. There are always subtle color differences on the screen of different devices and monitors, which makes finding your exact hue challenging. Many women choose to solve this problem by dyeing their hair products to match their hair color.
However, dyeing your wig can come with a few questions:
1. Can a wig be dyed to any color?
Well, at evawigs, we don't recommend that you bleach your hair or make it lighter, as this can do too much damage to your hair. But all of our hair products can be dyed any shade you like.
2. How do you dye the hair without staining the base?
Here are some things you may need for dying the hair so that you don't stain the base with dye:
1. A toothbrush
2. Vaseline
3. A mannequin head
4. Gloves
5. Hair dye
3. How To Dye Wigs Step By Step
1. First, the hair product is turned inside out, then placed on the mannequin's head. Pin It to your head to make sure it doesn't fall off.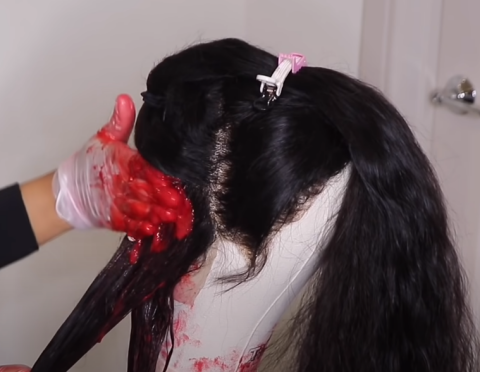 2. Apply a thin layer of Vaseline to the front lace or monochrome area to prevent staining.
3. Dip the toothbrush or hand into the hair dye, then very carefully place the brush on the root of the hair and apply the dye piecemeal. A toothbrush is a great tool for applying dye because it produces a natural gradient of hair color.
4. Allow the hair dye to stay in the hair for as long as it says on the label, then rinse the hair carefully with warm water. After that, blow dry or let your hair dry.
Keep in mind that this tutorial will only help you minimize base staining, and even if you use the methods used in this tutorial, a slight base staining may occur.
If you are worried about staining the base and don't want to dye your wig, we highly recommend that you purchase a wig at evawigs in the color you would like or that you purchase a custom color wig.