Since we always talk about lace front wigs or full lace wigs, let's talk about a different type of wig: the Toupee. The hairpiece is the perfect hairpiece for fashion girls and beginners.
The head band Wig in the EVAWIGS consists of two parts: a weft back and a black head band. The inside of the headband is a traditional hat structure, which determines its affordable price and breathability. Black headband sewn on the wig, do not worry about falling off. Whether you are a novice or experienced wig wearer, this headband is very easy to wear and maintain.
Headbands are a versatile product. As a functional or decorative hair decoration, it plays a vital role. Wigs, often seen as a chore, need to be trimmed or the parting lines powdered a bit. Combine a headband with a wig, and the two elements will take on a different look, saving you time before you head out the door.
These are three wigs from the evawigs. Each has its own characteristics, you can design for your shape unexpected results.
Honey Brown Highlight 100% Human Hair Headband Wig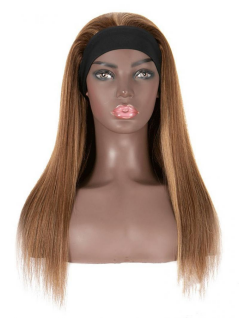 This blond brown wig is Brazilian and represents good hair. Color, honey blonde, is a mixture of light brown and light blond with a warm golden hue. Honey blond hair can vary in color, eye color, and personal style. And straight hair can make you and all kinds of clothing match up neatly.
Body Wave 100% Human Hair Headband Wig
Body wave hair is a kind of similar to the human body wave hair texture, looks very natural. It has the characteristics of straight wave and curl. The wavy curls of your body look more relaxed. If you're not happy with straight hair, body waves are your first choice.
Kinky Straight 100% Human Hair Headband Wig
Kinky straight hair is a texture that looks like straight hair but is actually slightly wavy. This is a good choice for those who like a natural fluffy look. Take a rock'n'roll picture with Tanacetum vulgare.
If you want to try a new hairstyle, but do not know which one to choose, please contact with us and we will give you an amazing feeling.