Choose the right wig for yourself should be important. But how should we do when you search a lace wig on the wig shop or online shopping? You should remember the next tips!
When purchasing a wig, you should keep 4 factors in mind: hairline, combs or clips, hair material, and lace front.
Hairline:
Does the hairline look realistic? Some wigs tend to have a hairline that is as thick as the rest of the hair. However, people's hair does not naturally look like that, real hair is naturally thinner in the front and grows denser as you move toward the back. If the wig's hairline doesn't look natural, use tweezers to pluck the front until it does.
EvaWigs.com lace wigs are all made with the pre-plucked hairline, which means you don't need to pluck by yourself. And what's more, we do not recommend you to pluck by yourself if you're not familiar with how you will probably pluck the hairline with bald dots.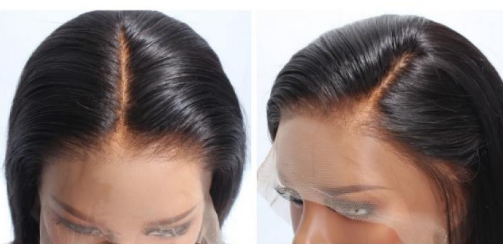 EvaWigs pre-plucked hairline.
Clips or Combs:
Make sure that the combs sewed inside the wig are comfortable and secure. You want to make sure that it's comfortable enough for you to wear all day without feeling hard and tight, yet secure enough to hold your wig until bedtime or longer if you sleep in it. Make sure how many combs you need around the lace wig and the position of the comb.
From EvaWigs.com combs requirements that can be available.
Hair Material:
The material affects how manageable the hair is, as well as how realistic it is.
1. Human hair wigs, for example, look much more realistic, but they can be fragile and need more care.
2. Meanwhile, blends of synthetic and human hair are the most durable when you're applying heat via straighteners and curlers.
3. Synthetic hair doesn't look as realistic as the others, but the price often cheaper and can be found in all sorts of colors and styles.
EvaWigs.com only offers high-quality human hair wigs, so you don't need to consider this factor when shopping with EvaWigs.
Lace wig cap types
For the most natural look, consider a full lace or lace front cap, which helps to position the hair naturally around your face, and which gives you a natural-looking hairline.
You have many choices for the lace wig types. More guides you can find from this article: https://www.evawigs.com/blog/lace-wig-cap-construction-types.html
By the way, when we wearing wigs, the construction and durability of a wig cap are also crucial. You might think that it's not important--the cap sits underneath the wig, so it's not like anyone will see it, right?
The answer is of course no, it is a very important part of wig wearing. First of all, be sure to choose the right cap color and better material for yourself. If the cap is made of poor material, it will quickly fall apart and if is made of rough material, it will rub against your natural hair and cause breakage. And be sure the cap you choose can help to flat your natural hair, then your wig will look messy and unnatural no matter how much adhesive you apply.
If you have more suggestions, please feel free to leave your comment below, and we'll be very happy to reply to you about your questions and concerns.