The most frequently asked question in summer is "Can I swim in a lace wig?" The answer is: Yes, of course, you can! But how to avoid the wig falling off my head? And are there any other issues I must take attention to? Let's talk about it.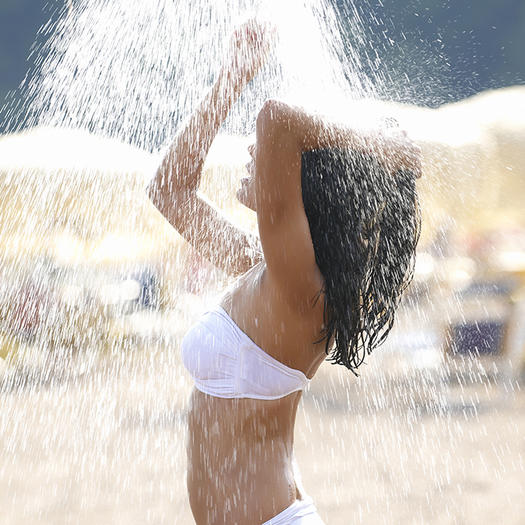 Currently, the most popular way to wear a lace wig is gluing the front lace trim along the hairline, and press it to make the lace melt into the skin to get an undetectable natural looking. And the main issue when swimming in a lace wig is that the wig might fell off from our head if the adhesive is not waterproof.
So if swimming in a lace wig, the first thing is, we must choose a waterproof adhesive to make sure the trim of the lace will not flip out in the water.
I have watched many videos testing different wig glues by sweats, showers, and trying to find a real waterproof adhesive, the glue brands including Got2b, Bold Hold, Esha, Ghost Bond and etc. But the result comes so differently from different videos.
So, the first thing before jumping into the water is to test your glue.
Test your glue first in your bathtub, or in a pool where no one is around, or just take a longer time shower to figure out whether the glue you use is waterproof or not.
The second suggestion is investing in a synthetic lace wig instead of a human hair wig for swimming.
That doesn't mean you cannot swim with a human hair wig, that's because human hair is not suggested to expose to chlorine and salt water. Except for the salt water and sand at the beach, chlorine and other chemicals are used in pools, and legions of organisms are found in lakes, rivers, ponds, and streams. So choose a synthetic full lace wig instead of your beautiful human hair wig.
And another reason, we suggest you swim with a synthetic wig is that synthetic fibers can hold the wig style and shape better than human hair.
If you swim in a human hair wig, wear it into a ponytail.
Using an elastic band to secure your unit.
For better secure the wig, elastic band method has been used so popularly, which means, sew an elastic band from ear to ear inside your wig cap, and wear across your nape to fasten the wig.
And if necessary, use clips or bobby pins in addition to the elastic band.
Here's a link of a useful video, about how to use bobby pins to fasten the wig, filmed by a professional mermaid entertainer who always needs to swim in a wig: https://www.youtube.com/watch?v=WH9b8bUuuZ0.
Always using wig glue remover to remove the glue.
Always using wig glue remover to remove the glue, normally the waterproof glues are more stick and harder to remove, don't rudely pull your wig, that will harm your hairline and damage the wig lace.
Apply some glue remover, take your time to gently and slowly remove the glue.
Be sure to wash both your hair and the lace wig after swimming.
No matter where you swim, or the type of hair you wear, be sure to wash both your hair and the lace unit after every swim session for sanitary purpose.