A full lace human hair wig with baby hair is a full lace wig hand-tied with a small amount of short and soft human hair along the hairline, in order to make the wig look more natural. And If you wanna do a ponytail, baby hair is not a bad choice because it can to some extent cover your wig cap trim.
You can customize your wig with or without baby hair.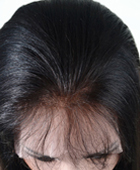 baby hair on front
baby hair on back
Filter items by: Best Sellers New Arrivals Price
There are 22 products.
Copyright © 2017 Evawigs.com All Rights Reserved.